If the company owes £750 or more, the creditor can issue a petition in court. The petition will have a hearing date endorsed on it and then must be served at the registered office of the company. It should then be advertised in The Gazette, after a period. Early advertisement of a winding-up petition amounts to a potential abuse of the proper process of the Court and can result in severe consequences such as dismissal and indemnity costs. Seek legal advice on issuing winding up petitions and seek representation at any potential hearings.
Why advertise a winding-up petition?
The Insolvency Rules require notice of a winding up petition to be advertised in the London Gazette by the petitioner. The purpose of giving such notice is to inform other creditors and contributories of the company of the fact that a petition has been presented against the company and to enable them to attend the hearing and make submissions to the court. The advertisement can appear just seven days after service of the petition.
What happens once a winding-up petition is advertised?
Once it has been advertised, a winding up petition may not be withdrawn and it must proceed to be heard by the court. It is inevitable that the petition will upon advertising come to the attention of the company's bank and creditors as well as possibly others (such as the company's employees, suppliers and customers). This can lead to the company's bank accounts being frozen and may seriously damage the reputation and financial stability of the company.
Download Advertisement of Winding-up Petition Form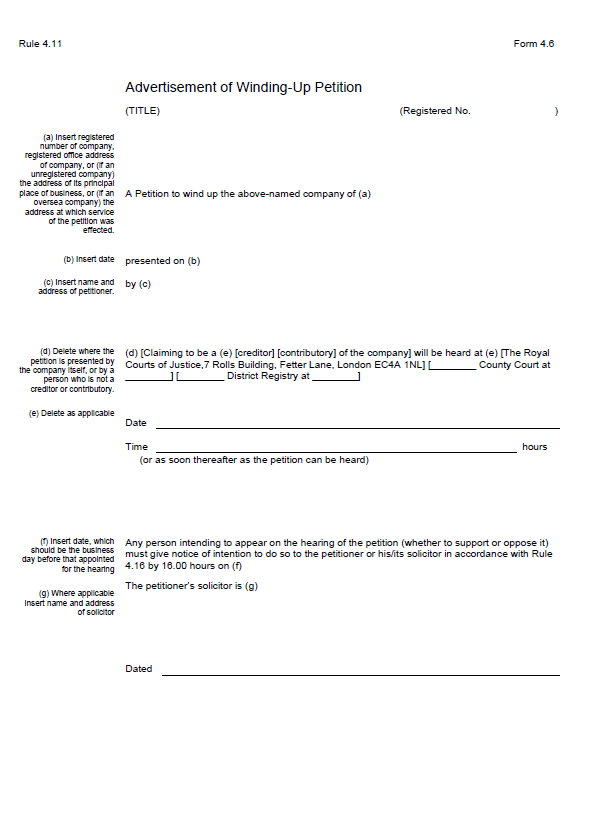 We represent you at Winding up Petition Hearings
Although we are based in the legal heart of London, operating as the only law firm in the historic Middle Temple Chambers, we provide comprehensive nationwide coverage to represent you at any winding up petition hearing. Our team of solicitors and barristers will prepare grounds of opposition and a witness statement for you.
We will represent you at the winding up petition hearing and will provide our own barristers or external local counsel to any hearing across the country.
Not based in London? We provide nationwide representation
That does not matter, we will represent you no matter where you are based in England or Wales.
If you contact us through our contact form, by email or by phone, one of our winding up petition team members will contact you by phone to discuss your matter and assess whether we can help you.
If we can, we will arrange a conference with a senior member of our winding up petition team. This meeting will take place either in person or using our telephone conference facilities or via Skype if you prefer. Therefore, no matter where you are based in England or Wales we can represent you.
Instruct Specialist Insolvency Lawyers
We provide a no cost initial case review to establish whether or not we can help you. We are a specialist City of London law firm made up of Solicitors & Barristers and based in the Middle Temple Inn of Court adjacent to the Royal Courts of Justice. We are experts in dealing with matters surrounding insolvency in particular issues. Our team have unparalleled experience at serving statutory demands, negotiating with debtors/creditors, setting aside statutory demands and both issuing and defending winding up petitions vigorously at the Royal Courts of Justice (Rolls Building), or the relevant High Court District Registry or County Court with jurisdiction under the Insolvency Rules.